IH2006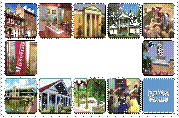 ---

HOME - CFP

Agenda

Accepted Papers

Calendar

Accommodations

Registration
---

Email: ih2006@jjtc.com

8th Information Hiding
Old Town Alexandria, Virginia, USA
10-12 July 2006


*** Information about the 9th IH Conference: IH07, Saint Malo, Brittany, France ***
Accommodations
---
The Holiday Inn Select Old Town - Alexandria, located in a prestigious setting in the heart of Historic Old Town Alexandria, Virginia. Conveniently located just minutes from Washington DC and all its monuments and attractions such as the Smithsonian Museums, The White House, Capitol Building, Viet Nam and WW II Memorials as well as the new American Indian Museum and Spy Museum.

Complimentary shuttle service is available to both the King Street Metro as well as Reagan National Airport, which is only three miles away.


Tel: 1-703-549-6080
Toll Free: 1-800-368-5047
Fax: 1-703-684-6508
Email: hibusctr@oldtownhis.com

Check-In Time: 3:00 PM
Check-Out Time: 12:00 PM


Reservation Code: IH2006 Conference
Please reference "IH2006 Conference" when making reservations
Call Monday through Friday 8:30 am to 6 pm Eastern Time
Tel: 1-703-549-6080 or Toll Free: 1-800-368-5047
Reservations must be made by June 16, 2006 to get the conference discount

See Hotel Website for latest information. (opens in new window)

More Detailed Map of Old Town (opens in new window)

Yahoo! Travel page for Old Town Alexandria (opens in new window)

Holiday Inn Select - Old Town Alexandria
480 King Street, Alexandria, VA 22314
---
Amenities
Indoor Pool
Pets Allowed
High-speed Internet Access
Sauna
On-site Guest Self-Laundry Facilities (washer/dryer)
Kids Eat Free
Dedicated Lounge (or 24 Hour Lounge)
Iron / Ironing Board
Coffee Maker
Health/Fitness Center On-Site
Hairdryer

Hotel Features

227 Guest Rooms
6 Suites
198 Non-Smoking Rooms
69 Double-Bedded Rooms
158 Single-Bedded Rooms
Suburban
2002 Last Renovation Date
VA0437 FEMA Property Number
5 Floors
Cocktail Lounge
1 Restaurant

Personal Services

A/C Public Areas
Concierge Services
Dry Cleaning Pickup/Laundry
Ice Machine
Newsstand
On-site Guest Self-Laundry Facilities (washer/dryer)
Porter/Bellman
Room Service
Safety Deposit Box available at Front Desk
Secretarial Services

Business Services

Business Center
Copying
E-mail & Internet
Executive Floors
Executive Suites
Facsimile
PC
Printer

Parking Information

Number of Parking Spaces: 150
Daily Parking Fee: $12.00 (USD)
Underground attended parking garage beneath hotel - 24-hour security; $10.00 per day for guests, $3.50 for non-guests with maximum of $12.00 daily charge

Downtown Information
WASHINGTON DC (7.39 MI/ 11.89 KM )

Area Airport Information

Reagan National (DCA)

Distance: 3 MI/ 4.83 KM S
Complimentary Airport Shuttle
Taxi Fee: $10.00 (USD)
Time by taxi: 10 minutes
Time by train: 10 min
DULLES INTERNATIONAL (IAD)
Distance: 35 MI/ 56.33 KM NW
Taxi Fee: $50.00 (USD)
Baltimore Washington International (BWI)
Distance: 55 MI/ 88.51 KM N
Taxi Fee: $50.00 (USD)

Area Train/Subway Information

King St. Metro

Train Station Name: King St. Metro
Train Station Distance 1 MI/ 1.61 KM W
Complimentary Train Station Shuttle
Taxi Fee $5.00 (USD)

Area Convention Center Information

Washington, D.C

Convention Distance 6 MI/ 9.66 KM
Taxi Fee $18.00 (USD)

Local Information

Golf within 10 MI/ 16.09 KM
Tennis within 3 MI/ 4.83 KM

Attractions

Boyhood Home of Robert E. Lee (0 MI/ 0 KM )
Carlyle House Historic Park (0 MI/ 0 KM )
Christ Church (0 MI/ 0 KM )
Gadsby's Tavern Museum (0 MI/ 0 KM )
George Washington Masonic National (0.5 MI/ 0.8 KM )
Pentagon City Fashion Center (5 MI/ 8.05 KM )
Smithsonian Museums (6 MI/ 9.66 KM )
White House (7 MI/ 11.27 KM )
Arlington National Cemetery (6 MI/ 9.66 KM )
Mount Vernon (8 MI/ 12.87 KM )
US Capitol Building (8 MI/ 12.87 KM )
American Indian Museum (8 MI/ 12.87 KM )
WWII Memorial (7 MI/ 11.27 KM )
Jefferson Memorial (7 MI/ 11.27 KM )
Potomac Mills Outlet Stores (30 MI/ 48.28 KM )

---

DISCLAIMER:
The Information Hiding conference (IH2006) is a voluntary association of individuals and groups sharing common research interests. The opinions and ideas presented in the conference material are those of their original authors, and do not necessarily reflect the views and opinions of Booz Allen Hamilton and conference sponsors. The author is solely responsible for content.

Use of the information provided at IH2006 is at your own risk. The conference sponsors give no warranty of accuracy, completeness or reliability of such information. The sponsors of the conference disclaim all liability of any kind arising directly or indirectly from any use of the information or ideas conveyed or published.

Any of the trademarks, service marks, collective marks, design rights, personality rights or similar rights that are mentioned, used or cited in the papers submitted to the conference or information presented at the conference are the property of their respective owners. Unless otherwise stated Booz Allen Hamilton and conference sponsors neither endorse nor are affiliated with any of the holders of any such rights and as such cannot grant any rights to use any otherwise protected materials.

Home | Agenda | Accepted Papers | Calendar | Accommodations | Registration Site